Gilad arrived at Ascent with the notion that religious Jews are [G-d forbid] his enemies and that observant Judaism is something remote. Spending a Shabbat at Ascent, he met religious Jews who really cared for him and saw Judaism being relevant and joyous. This opened him to a process of acceptance. What clenched it for him was that on a tour of the Old City of Tzfat, a religious man and his child greeted him with a friendly "gut Shabbos." He was astonished!  Gilad's commander saw how moved he was and jokingly warned him not to run out and buy a kippah (yarmulka).We believe that growth in Judaism is something individual and we don't force it. We are confident though, that it won't take Gilad too long to respectfully disobey his commander's warning.
Gilad is just one of many soldiers that benefited from the experience your financial support helped to bring about. This video tells some other stories.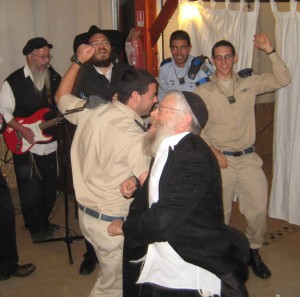 [br] Why send our soldiers to Ascent?
From the moment a group of IDF heroes arrive at Ascent, we shower them with love and warmth, exposing them to the beauty of Shabbat and Judaism, instilling in them a pride for their heritage and nation.[clearboth]
We also make sure the soldiers know that our Rabbis are available for private conversations about whatever might be on their mind, whether the result of their army experience or a religious or life question. It's not uncommon for life-long relationships are forged during these one-on-one times so a soldier has support both during and after their IDF experiences.
If you'd like to know more about a typical IDF Shabbat, check out this typical agenda. [clearboth]
To make a donation, enabling us to bring more soldiers to Ascent, visit this page.