What is an IDF Shabbat like? [br] Here's an idea of a typical winter Shabbat weekend.
Our IDF hero-soldiers arrive at Ascent and are greeted by a smiling receptionist and perhaps some rabbis on hand to greet them as they receive their room keys and make themselves at home in their rooms.
Their experience typically begins with a tour of Tzfat that introduces them to the rich history of the city. This includes stops at a variety of synagogues so they get to see the various styles.  [clearleft]
[clearboth]
After about an hour in the old city, the soldiers return to Ascent and have lunch together.[clearboth]
Following lunch our soldiers have an opening session. Here they learn more about their experience-to-come — and then get to enjoy a live performance of typical traditional Tzfat Klezmer music. [Klezmer started as a tradition of the Ashkenazi Jews of Eastern Europe.]
This is actually more than just a performance as musicians (klezmorim), don't just play, but involve the soldiers. (But we don't have a photo of soldiers playing to show you now.) If you come visit us here at Ascent you might walk in to enjoy a soldier learning to play the clarinet or flute or be in time to hear a room full of our young soldiers clapping a rhythm to accompany the musician.[clearboth]
With the joy of music still in their heads, our hard-working soldiers get some rest-time now. Perhaps a pre-Shabbat shower or nap. Maybe they'll hang out with friends. [clearboth]
In winter, candle lighting is early so that's up next, followed by a walk through the old city to see families walking to synagogue, to witness services in some of the synagogue and to hear the various colors of Judaism come alive for them. This may be the soldier's first Shabbat service experience, or their first time getting to know the fun of the Chassidic prayers, full of song.
[clearboth]
Soon it's time to sit down to a group dinner in our dining room, or perhaps join a host family for dinner in groups of about six. There are some fabulous families in Tzfat that welcome our soldiers. This is extra special for many of our soldiers as it's often their first time at a true family Shabbat meal. Many of them tell us this is heart-or-eye-opening, giving them a special appreciation of Shabbat. (Of course, we don't have photos to share with you as our only cameras on Shabbat are those in our minds.) [clearboth]
Sometimes all-too-soon, it's time to head out and let our host families rest. But the night is young for our folks so it's time for what is likely our soldiers' first Farbrengen. [Farbrengen is Yiddish for "joyous gathering'.] For about three hours, they'll hear stories, share in some lively Hasidic melodies, enjoy some refreshments, speak and ask questions. [clearboth]
On Saturday their day starts with breakfast at Ascent followed by a tour that explains the battles that took place in Tzfat during the War for Independence. [br]  [br]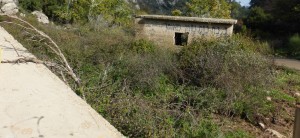 [clearboth]
After this unique tour, it's time for lunch as a group and then some rest time. [clearboth]
In the afternoon, they have a workshop created by Ascent and the IDF, especially for our soldiers. There are several such workshops so the commander and group choose which one they'd most like. It may be about leadership in Judaism, thinking positive, or happiness and laughter (during which the laugher is pretty much non-stop!). Maybe they'll do theater that practices how to be together. Another option is the story about a very high ranking commander killed during the second Lebanon war.[clearboth]
Closing out Shabbat, there's a musical havdalah, full of singing and dancing. For this, our soldiers are joined by other Ascent guests — students here for a Student Shabbat and individuals that happen to be here as well. Locals join us as well, as do our musicians' and Rabbis' families.
Finally, we have Meleveh Malka – the traditional 4th meal, and a final session during which they get to review their experience, among other things.
Our soldiers have the option to stay Saturday night. If they stay they have the option for session on the history of music and how it is connected to Judaism.
As you can see, your contribution and support provides a great introduction to the warmth, wisdom, and traditions of Judaism, sprinkled with much-needed and much-deserved down-time. [clearboth] 
To make a donation, enabling us to bring more soldiers to Ascent, please visit this page.