by Chaya-Brocha Leiter
The reputed best method nowadays to meet your soul-mate is to visit "Amuka," an ancient site [Joshua. 19:27] hidden in a wooded valley between Zefat and Chatzor in the Upper Galilee. There, nestled amongst the flowers and stones, one finds a small enclosed area with burning candles, books of Psalms, and weathered prayer books. This is the burial site of the holy sage, Yonathan ben Uziel, who was the greatest of all the students of Rabbi Hillel, 2000 years ago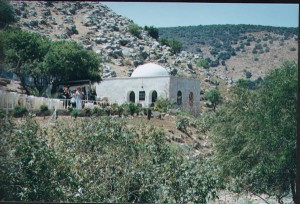 The Talmud [Sukkah 28a] reports that birds passing above his head would burn from the presence of the angels who came to hear his Torah study! Known for his famous Targum ["Translation"] of The Prophets, it is said [Talmud, Megillah 3a] that he also planned to author a translation-commentary on The Writings, but was prevented by Heaven so that he would not reveal the secrets of the final redemption.
It is said of Rabbi Yonathan ben Uziel that since he never married, he has a special merit to intercede on behalf of the earnest prayers of single men and women. His burial place in Amuka, near Safed, is perhaps the main Jewish pilgrimage site in Israel for those in search of their destined soul-mate.
Reaching Amuka used to be much more difficult than it is today. The bumpy dirt road has been paved, so it is no longer a risk to your car to drive there. Up to seven people splitting one taxi fare from Zefat ends up to be inexpensive. You can also walk to there [2-3 hours] through beautiful, historic hills and valleys (as we often do during Ascent seminars). There are plenty of signs. Ask for directions before you leave Zefat. Enjoy!