Ze'ev Berg
This famous and unusual river originates in the 10,000 foot peaks of Mount Hermon, the northernmost point in Israel, and flows over 200 miles to the 1,200 foot depths of the Dead Sea, the lowest spot on earth. The melting snows sink deep into the mountain, forming subterranean water ways which burst out into gushing springs at three major points at the foot of the Mount Hermon range. each a spectacular scenic site for touring and hiking (see below). These three become the Chermon (Banias), Dan, and Snir (Chatsbani) rivers, all of which flow down to the fertile Chula Valley, where they are absorbed and molded into one river, the Yardein (Jordan). From the Chula it runs to immerse itself in the Kenneret (Sea of Galilee), from where it emerges again to wind its way to the Yam Hamelach (the Dead Sea), where it disappears.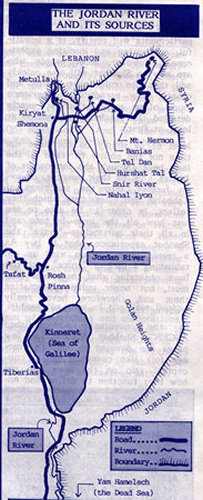 SITE

DESCRIPTION

NACHAL IYON
Nature Reserve
Tributary feeding the Jordan — 3 waterfalls —  dries up in mid-spring — hiking and picnicking
SNIR RIVER
Third major source of Jordan — originates in Lebanon — inner-tube rentals for  rafting available on roadside.
CHURSHAT TAL
National Park
150 huge Mt. Tabor oaks — clear, ice-cold streams & ponds — picnicking and camping sites
TEL DAN
National Park
  Largest tributary of Jordan — lush vegetation &
trees — beautiful hiking trails & picnic areas
BANIAS
Nature Reserve
Second largest source of Jordan — springs, streams, major waterfall, water mills, caves & ruins — picnicking and excellent hiking
MT. CHERMON
Israel's highest mountain — skiing resort — exciting cable car ride
AN ASCENT TRAVELER'S MEDITATION
Our souls originate in the Upper Worlds and descend into a body about which it is said three partners are involved in its formation — G-d, mother and father. Analogously, the Jordan waters originate in the skies above and make their descent via the three well-spring sources which join in the fertile valley of the Chula to form the one body of the Jordan. Further, as our bodies carry us through the twists and turns of a lifetime, the Jordan follows a winding course (over 200 miles to cover less than a 100 mile north-south distance) until it reaches its final destination. And just as during our life's journey we store up good deeds and acts of kindness, so the waters of the Jordan carry vast amounts of precious minerals (its good deeds) into the Dead Sea. Finally, in the same way that our good accomplishments continue on after us, affecting subsequent generations, the Jordan's deposits in the Dead Sea go on to become a major international source of important fertilizers, helping to bring new life into the world.
Buy guidebooks to Safed and the Golan at the Kabbala Online Shop.